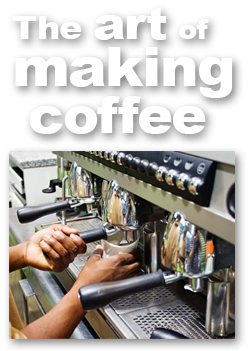 Training
Copywrite 2011 Caffe Gusto
Designed by www.loobyloographics.com
Barista Training
With our barista training you can be sure to achieve the high levels of skill and presentation now expected by coffee consumers world wide. With years of experience within the catering industry and intimate knowledge of coffee and preparation techniques we have the knowledge to help you get the best from your coffee and your coffee equipment.

Although this course was designed for those working in the coffee business, it has also been very popular with keen amateurs who want to make great coffee at home.

The course:
- The story of coffee (a touch of history)
- What is coffee? (from the plant to roasting and storage)
- Understanding the grinder
- Understanding the espresso machine
- Making the perfect espresso
- Milk Techniques
- Coffee Menu - everyone leaves being able to make 6/7 espresso based drinks to a professional standard.

Our Barista trainer is also on hand to train management on coffee blending and coffee equipment use, enabling them to train and pass on these barista skills to their current and future staff.